PUBLIC POLICY – America, a nation of immigrants
Governor Signs 14 AAUW-Supported Bills Into Law 
by Magaly Zagal  
Legislative Advocate for AAUW-CA  
The 2018-19 legislative season has come to a close, and by October 13, 2019 Governor Newsom signed 870 bills out of the 1,042 bills that were presented to him.  Among the most significant of these were fourteen bills which will become law due to the advocacy and research support offered by AAUW-CA:  
AB 9  – Extends the time for filing harassment and discrimination claims under California's Fair Employment and Housing Act (FEHA) from 2 to 3 years, allowing survivors additional time to seek redress.  
AB 51 – Prohibits an employer from requiring an employee to waive any right for a labor code violation as a condition of employment, continued employment or receipt of employment benefits.  
AB 59 – Directs county elections officials to consider a vote center location on a public or private university with the intent to increase youth voter turnout.   
AB 170  – Closes a gap in the law to ensure that employers do not resort to subcontractor agreements for purposes of avoiding liability for sexual harassment claims.  
AB 218  – Increases the civil statute of limitations period for commencement of a sexual assault cause of action. This will give sexual assault survivors sufficient time to access civil remedies.  
AB 381 – Ensures that prevention and bystander intervention outreach on dating violence information is made available to incoming students during orientation.  
AB 543 – Ensures that all 9th through 12th grade students receive a written policy on sexual harassment information during orientation. AAUW's report "Schools Are Still Underreporting Sexual Harassment and Assault" was critical in  helping support the legislative analyses for AB 543.  
AB 749 – Prohibits the use of "no rehire" clauses in settlement agreements that broadly restrict future employment opportunities for workers settling a sexual harassment or other claims.  
AB 809 – Mandates that public postsecondary institutions provide notice to students to ensure that pregnant and student parents are aware of their Title IX rights.  
AB 922 – Allows a woman providing human oocytes for research to be compensated for her time, discomfort, and inconvenience in the same manner as other research subjects.  
SB 24 – Increases access to reproductive health services for students at public universities and colleges by providing medication abortion at student health centers.  
SB 142 – Requires employers to have a written lactation policy and lactation spaces that meet minimum requirements for lactating workers. While existing law requires employers to provide parents with the time and space to express breastmilk, SB 142 places specific guidelines to ensure that parents are sufficiently protected in the workplace.  
Informing everyone and monitoring legislative issues is an important function of our AAUW Branch. We provide candidate forums, as well as informative meetings on local issues and participate in coalitions for human and civil rights.
Updates on November Public Policy Meeting – Charlotte Germundson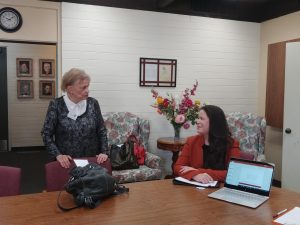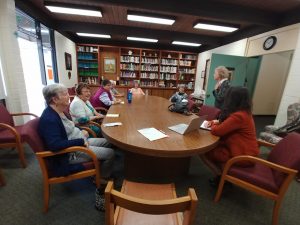 When I was in college studying political science, a continual dilemma was the conflict of theory to the real world. Public Policy didn't have that problem when we met Thursday morning, November 8th. Katherine Paculba Lacher, Esq., attorney, and Pro Bono Program Director with the Casa Cornelia Law Center spoke to us about immigration policy, especially concerning asylum seekers. No topic could have been more relevant to us as Americans.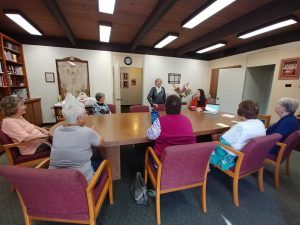 The national midterm election took place on November 6th. Immigration, along with the economy and health care, was a vote deciding the issue. The following day the United States attorney general resigned and was temporarily replaced by Matthew Whitaker. The Thursday morning we were gathering, a "caravan" of asylum seekers was some 900 miles from our southern border and troops were being sent to maintain order. At the same time, President Trump was trying to change the accepted rule of asylum that anyone could apply whether at a port of entry or anywhere along the border. He wished to restrict a legal application to only legal ports of entry. As we exited from the meeting, an announcement came over the radio that the San Francisco Court of Appeals had ruled that the Trump administration must continue Obama's DACA program.
Personally, I was surprised at how hard it is to get asylum. How do you prove your life is in danger? It seemed that documentation, while incredibly hard to assemble, was secondary to the credibility of the individual. Katherine was asked what would she change in the immigration process if she could. She immediately answered, "I would get rid of the gangs." Gangs are the heart of the problem. The brutal behavior of criminals has changed the lives of innocent victims whose actions then challenge the values of our nation. It isn't theory really; it's people who make the problem. Now that's the real world, isn't it?
By Rita Bruin
Anita Reith, co-chair of LMEC AAUW Public Policy, arranged and hosted a meeting to address the issue of Elder Abuse this past September at the El Cajon Library. As with many health issues, the concept of Elder Abuse not only carries a degree of stigma but sometimes denial that it exists.
Anita shared that in San Diego County alone in 2017 there were 9,000+ cases of reported Elder Abuse. According to a study by the Cornell University of New York City, it was determined that in New York State there exist a ratio of 27:1: for every one case reported, there are 27 unreported.
The guest speaker, Scott Pirello, has been with the San Diego District Attorney's office for 10 years and head of the Elder Abuse Division for the past year; he graciously gave of his time to address this growing issue. He spoke of various kinds of Elder Abuse, sharing a few theme stories that have come across his desk in the last year since heading this division, followed by a Q&A session.
In a separate discussion with Dave Myers, current candidate for La Mesa City Council and former Deputy Commander of the Sheriff Department, Myers referenced data collected for the county on Elder Abuse: In San Diego County, nearly 23% of the population is projected to be over age 65 by the year 2050, …a 10% increase from 2015. With the older population increasing, elder abuse is also on the rise. In 2016, there were 780 violent crimes against senior citizens, an increase of 13% from the previous year and 37% from five years ago. Those 780 crimes included 14 homicides, 24 rapes, 205 robberies and 537 aggravated assaults.
Mr. Pirello stated, "…there are so many types of abuse and the bad guys are evolving, so change how they scam all the time." He has provided the following list of informational websites on this issue, including one on the types of Elder Abuse. It is hoped that those seeking information/education will find these websites helpful.
According to the Cornell University comprehensive study conducted for New York State: When types of abuse were reported, 48.1% of reported victims experienced emotional abuse; 34.7% experienced financial abuse; 10.9% experienced neglect; 44.2% experienced physical abuse and .71% experienced sexual abuse. Aggregate data reported included victims who experienced multiple forms of abuse. For example, elder abuse victims who were provided services for both physical and emotional abuse could be included in aggregate data reported in both categories.
This report, Under the Radar: New York State Elder Abuse Prevalence Study SELF-REPORTED PREVALENCE AND DOCUMENTED CASE SURVEYS FINAL REPORT May 2011, was Prepared by: Lifespan of Greater Rochester, Inc., Weill Cornell Medical Center of Cornell University New York City Department for the Aging and can be found at: http://www.ocfs.state.ny.us/main/reports/Under%20the%20Radar%2005%2012%2011%20final%20report.pdf
Additional resources provided by Mr. Pirello:
–http://www.sdcda.org/helping/elder-abuse.html A link to the DA's website on Elder Abuse, a tremendous amount of resources with links to additional resources
–http://www.sdcda.org/helping/dont-get-hooked.pdf Within the San Diego's DA's website, there is a link to this amazing booklet put together a few years ago called "Don't Get Hooked!",  which explains in detail several of the most common scams
–https://www.aarp.org/politics-society/advocacy/info-06-2013/greater-numbers-greater-risk.html Tremendous AARP article illustrating the magnitude of abuse with links to additional resources
–https://www.bbb.org/globalassets/local-bbbs/st-louis-mo-142/st_louis_mo_142/studies/sweepstakes-lottery-and-prize-scams-study-final.pdf Extremely thorough paper put out by the Better Business Bureau this year:
–https://www.justice.gov/elderjustice & https://www.nia.nih.gov/health/elder-abuse Links with national resources and information:
---
---