Welcome to the La Mesa-El Cajon Branch of AAUW
The American Association of University Women (AAUW) is a nationwide network of more than 170,000 members and supporters, 1,000 branches, and 800 college/university institution partners. The mission of AAUW is to advance gender equity for women and girls through research, education, and advocacy. Our active La Mesa-El Cajon Branch was founded in 1951 and includes over 170 members.
Our 2021-22 theme is: Reaching Out, Making Our Impact.
Please explore our website to discover more of what we do and consider joining us!
---
Next General Meeting
Saturday, February 12th, 2022
Time – Socializing begins at 9:30 am. The meeting runs from 10:00 to 12:00 unless otherwise noted.
Location – King Hall, Foothills United Methodist Church, 4031 Avocado Blvd. La Mesa, CA 91941
Our February meeting will return to an in-person event with special guests from the Alpha Kappa Alpha sorority led by Joyce Suber and our own member Carol Patrick. In honor of Black History Month, Joyce and Carol will lead a discussion about the sorority's history, community service and philanthropic activities. What can our Branch learn from AKA? How can we connect our two organizations?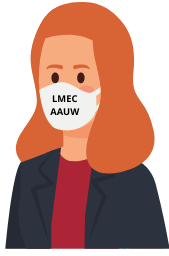 ---
Please check out the following two slide shows that were presented at our June 12th final meeting of the 2020-2021 year.
Our Year in Review slide show by Joan Camana, June 12, 2021
My Adventure at the 2021 Virtual National Conference for College Women Student Leaders slide show by Melissa Cusa, June 12, 2021