Save the Dates:
December 8 – Holiday Meeting
January 26 – IBC Luncheon
February 9 – AAUW FUND Brunch
April 13 – Author's Luncheon
Local Scholarship Recipients from Grossmont and Cuyamaca Community Colleges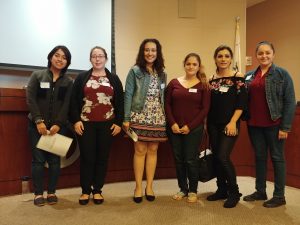 Rummage Sale
Our fantastic October Rummage Sale is one way we raise money. Thanks to the workers, donors, and shoppers! The money raised from this event goes to fund local scholarships for women and girls.
Branch Brag
Noura Bishay, An Architect from Egypt who has a passion to design spaces that inspires, heals and empower the community. She has finished her master's degree in Architecture at the NewSchool of Architecture and Design. Her thesis "The Green Network" has received the SPAPA Academic Award. Ms. Bishay combines compassion with art to design and create spaces that matter. She was nominated for the AIA Student Awards. She also got qualified for the AIA Film Challenge for her Park to Bay Project.Ms. Bishay finishing her Bachelor degree in Architecture from Arab Academy for Science, Technology and Marine Transport (AAST), she worked for six years in two of the top architecture firms in Egypt. She has worked on a wide range of projects such as residential, retail, commercial and industrial.