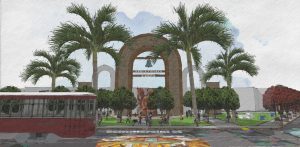 Vote Now! let's support our AAUW International Fellow Noura P. Bishay. She has qualified for the American Institute of Architects (AIA) Film Challenge with her Park-to-Bay Project: a project that connects  "Balboa Park" to the  Bay through 25th Street and Cesar E. Chavez Pkwy. It reunites three low-income communities and four parks. This project supports social equality using architecture and urban planning. Pushing our city to be more walkable and promoting healthy living styles. It also intends to decrease the pollution by adding more trees to this highly polluted area. The project aims to inspire, heal and empower the community by emphasizing the character of the city.
Noura P. Bishay Biography
Noura Bishay, An Architect from Egypt who has a passion to design spaces that inspires, heals and empower the community. She has finished her master's degree in Architecture at the NewSchool of Architecture and Design. Her thesis "The Green Network" has received the SPAPA Academic Award. Ms. Bishay combines compassion with art to design and create spaces that matter. She was nominated for the AIA Student Awards. She also got qualified for the AIA Film Challenge for her Park to Bay Project.Ms. Bishay finishing her Bachelor degree in Architecture from Arab Academy for Science, Technology and Marine Transport (AAST), she worked for six years in two of the top architecture firms in Egypt. She has worked on a wide range of projects such as residential, retail, commercial and industrial. Her knowledge of most architecture software makes her unique and fast. Also, she was able to train her coworker and support them. She is a good leader and a good follower. She was awarded five scholarships; AIA Scholarship, International Student Scholarship, Merit Scholarship, Presidential Scholarship, and the AAUW International Fellowship.
Ms. Bishay also volunteered in developing a slum area for the garbage collectors in Egypt as well as volunteering with AIA- HN1M (Housing the next One Million). She is passionate about helping the homeless and supporting women's rights. Noura believes that we can change the world through our small actions and she puts her heart and soul into everything she does.