2020-2021 Slate of Elected Officers:
Co Presidents- Patti McCann and Joan Camana
President Elect- Joan Camana and Vicki Spilkin
Program Co-VPs- Pat Green, Barbara Jania-Smith, Mary Decottignies
Membership Co-Vps- Mary Ann Church, Maureen Seitz, Judy Williams
AAUW Fund Co-VPs- Ann Daluiso and Ginger Lloyd
Recording Secretary- Catherine Kornweibel
Finance Officer- Marilyn Balzer
Membership Treasurer- Jane Niemeier
Special Activities- Ginny Kurz
Public Policy/Int'l Affairs Vicki Reed and Charlotte Germundson
Tech Trek- Donna Kruse and Heide Doss
Ways and Means:
-Fundraising by Mail Mary Wells and Marilyn Balzer
-Author's Luncheon Sherry Butler
Appointed Chair 2020-2021:
Local Scholarships-Carol Perkins and Cindy Rittershofer
College Liaison-Cindy Rittershofer
Women in History-Carol Perkins
Circulation-Martha Powers and Bobbie Dennis
Directory Editor-Jan Tierney
Mass Mailings- Marilyn Balzer
Telephone Links- Ann McDonald
Forecast Editor- Randa Blanding
Hospitality- OPENING (Yolanda Emery needs a Co)
Career Day: Ann McDonald
Communications/Med
-Media—Randa Blanding
-Facebook—Jane Niemeier
-Website—Noura Bishay
Speech Trek-Sue Sutton and Sandy Martinez
First Female—Sydney Brown

Check AAUW La Mesa El Cajon Branch  College Scholarship Application for both Grossmont College and Cuyamaca College
Legislative Advocate for AAUW-CA  
The 2018-19 legislative season has come to a close, and by October 13, 2019 Governor Newsom signed 870 bills out of the 1,042 bills that were presented to him.  Read more
Last Meeting Tech Trek and Branch Activities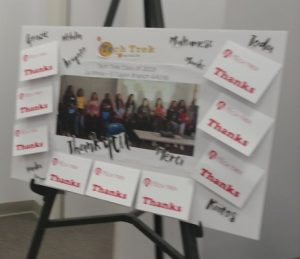 Thanks to your donations for Tech Trek, 10 girls went to Tech Trek. Thank you letters from the girls was displayed meeting and will be posted on the website next week.
RUMMAGE SALE
The La Mesa – El Cajon branch of the American Association of University Women is sponsoring a HUGE annual Rummage Sale and Fund-Raiser for our charitable NON-PROFIT educational scholarship programs.  More than 100 people donate items for this sale. All kinds of clothing, various household items, dishes, bric-a-brac, dolls, tools, toys, sporting goods, sewing and craft supplies, small appliances, some furniture, costume jewelry, Christmas and holiday decorations, electronics, 33LP records, videos, CD's, etc.,  and a large selection of used books.
As an AAUW Member, you're an ambassador, helping to build relationships between AAUW and the public. By supporting mission-based programs and resources, you're showing your solidarity in ways that will impact the lives of women for generations to come and helping us to end the gender pay gap by 2030 by training 10 million women by 2022. Empower the women you know in the workforce on salary negotiation by sharing this free course. As a member ambassador, we hope you will login and explore the course at your leisure with your email address and default password of Salary1.
Empower the women in your life to negotiate for fair and equal pay by directing them to salary.aauw.org to register for this course.
---
Read more about our AAUW La Mesa-El Cajon CA Foundation
Mark your calendars for October 3, 4 & 5
and join us at St. Dunstan's Episcopal Church
for our annual Rummage Sale.
I can't stress enough that there is a job for every one of you. We have planned a new format
for this year at St. Dunstan's so needed gals simply to sit and
check customer's receipts, cashiers,
sellers, etc., etc., etc.! The more people we have for each time slot the less we all have to
work (and the more money we will make)! Husbands, significant others and grandchildren are
more than welcome to help! I urge all of our new members to come as it's a great way to meet
and get to know your fellow members. We do laugh a lot!
You have all summer to pack up your treasures so that you're ready for October. Signing up is
ever so easy. All you have to do is click on the following link, choose the time(s) you'd like to
help and sign your name. Space grows as the names are added.
https://docs.google.com/document/d/19SbGT3bMWKUdIb6RZty1aKZuZoVzlist2D-BBjIJYmc/
edit?usp=sharing
If you are going to be out-of-town during the sale please give me a call and you can drop off
your goodies at my house. If you have any questions don't hesitate to call me (619) 593-7307
or send me a text (619)309-9359 or send me an email mwells1894@gmail.com.
I hope everyone has a delightful, relaxing and interesting summer.
Mary Wells
Anne Hoiberg and Donna Lilly represented you and promoted AAUW to a Chinese contingency at the Overseas Young Chinese Forum at the Women's Museum in Liberty Station and Morgan Run Golf Resort in Rancho Santa Fe.  The OYCF was established in 1999 to provide a regular platform for overseas Chinese scholars, grad students, professionals and others interested to exchange views on China's development. It is an NGO that advocates volunteerism and cultivates the members' lasting interest in China's social, political and economic development.  Only a few females and 29 males attended.  Read more
The Kentucky Derby party
The Kentucky Derby party was one of membership's 2 yearly parties honoring new members but all members and their guests were also invited.  Over 40 people attended this party. Guests reached into a bowl and chose a horse to watch on our TV. Prizes were given to guests whose horses came 1st, 2nd, and 3rd. Mint Juleps and lemonade were served, as well as many delicious finger foods. A great time was had by all!
---
Author's Luncheon
Shout-out to our amazing Author's Luncheon Committee and to everyone who participated! Our PROFIT was approximately $9,800 which will be directed to funds for AAUW philanthropic scholarships and programs. Thanks to all of the branch members and guests who contributed by attending or donating money and items for our event.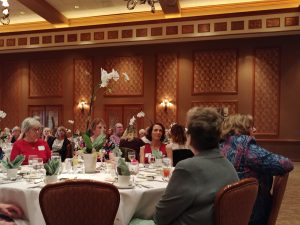 The Supreme Court Finally Addresses the Rizo Case … in Part. 
Aileen Rizo's Fight for Fair Pay Continues.
On August 30, 2018, Fresno County Superintendent of Schools filed a petition for appeal with the Supreme Court of the United States to challenge the decision of the U.S. Court of Appeals for the Ninth Circuit, which had found in favor of Aileen Rizo's Equal Pay Act case. The Ninth Circuit had held that using prior salary alone, as a "factor other than sex" or in combination with other factors, cannot justify a wage differential under the Equal Pay Act.
HONORING: La Mesa-El Cajon Branch Named Gift Honoree,
Shirley Feldmann, an 8 year member of our Branch
who has given many hours of her time as Chair of Hospitality & Yard Sale,
Branch Photographer
and now editing our FORECAST all while working full-time
Local Scholarship Recipients from Grossmont and Cuyamaca Community Colleges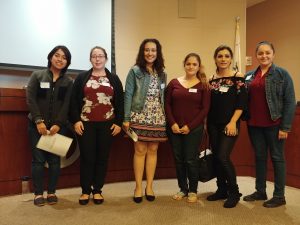 Rummage Sale
Our fantastic October Rummage Sale is one way we raise money. Thanks to the workers, donors, and shoppers! The money raised from this event goes to fund local scholarships for women and girls.
Branch Brag
Noura Bishay, An Architect from Egypt who has a passion to design spaces that inspires, heals and empower the community. She has finished her master's degree in Architecture at the NewSchool of Architecture and Design. Her thesis "The Green Network" has received the SDAPA Academic Award. Ms. Bishay combines compassion with art to design and create spaces that matter. She was nominated for the AIA Student Awards. She also got qualified for the AIA Film Challenge for her Park to Bay Project.Ms. Bishay finishing her Bachelor degree in Architecture from Arab Academy for Science, Technology and Marine Transport (AAST), she worked for six years in two of the top architecture firms in Egypt. She has worked on a wide range of projects such as residential, retail, commercial and industrial.